It's no news that over the past decade, Gift Cards and cryptocurrencies like Bitcoin are taking over the finance space as many people are beginning to substitute the use of cash for that of Gift Cards and Bitcoins.
However, the good thing about these two digital assets is that they are convertible into cash and can also be exchanged for each other.
Over the years, different platforms in Africa have sprung up to aid in the exchange of Gift Cards for Bitcoins, to save sellers the stress and inconvenience of scouting for buyers of their assets. Some platforms have multiple options from which you can receive payment for your assets. For example, some platforms exchange Gift Cards for cash and crypto like Bitcoins, Litecoins, USDT and Dogecoin.
The bone of contention of this article is to elucidate how you can sell gift cards for crypto or in Africa or anywhere in the world and the best platform where you can do that successfully.
Best App To Convert Gift Card To Bitcoin
As an African, especially one living in Nigeria or Ghana, one of the best platforms to trade any digital asset like Gift Card or Bitcoin is Prestmit.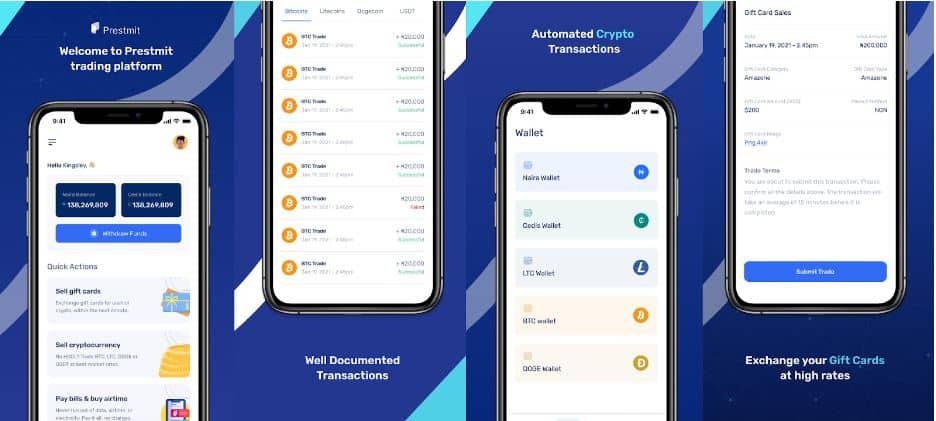 It is no doubt the leading platform in Africa, given the user-centric nature of the app, the transaction speed and undoubtedly high rates. It doesn't require much formalities to use and payment is instant. Prestmit intends to provide you with the best value for your gift cards by offering competitive prices.
Prestmit allows you to retrieve, purchase, and sell gift cards from your phone, tablet, or computer. The user-friendly platform is available for both web and mobile users.
For gift card exchanges, Prestmit offers three payment options. You can be paid in naira or cedis, and you can buy bitcoin with gift cards at the same time.
In Nigeria, Prestmit offers over 20 different types of gift cards, including but not limited to Google Play, steam wallet, itunes, apple, AMEX, Vanilla, best buy, footlocker, gamestop, netflix, macy, nike, nordstrom, sephora, offgamers, EBAY, razer gld, saks, Amazon, target, visa, walmart, xbox e.t.c
There are many reasons why Prestmit is your best shot when trading a Gift Card or Bitcoin comes to mind. Here are some reasons why Prestmit is the deal:
Why Sell Gift Cards And Bitcoin Using Prestmit
Good User Experience and Interface:
The Prestmit app is user-friendly. To understand how the app works, you won't need extra tutorials. The app's user interface design makes it simple to navigate.
Prestmit allows clients to communicate with customer service representatives and file complaints using the app's live chat function which is available 24/7.
Everyone dreads downloading an app that exposes their personal information to scammers and other cybercriminals. Prestmit is a security-focused program that safeguard user details, assets and funds.
Prestmit offers the most competitive prices on the market. The Gift Card rate calculator is a function of the Prestmit app. It's automated and you can use it to keep track of the current rate of numerous Gift Cards. You can easily check rates of gift cards on the Prestmit website, updated daily.
Unlike other gift card trading applications, Prestmit allows you to request a withdrawal and receive your payment in less than five minutes. When it comes to accepting Gift Card, Prestmit is known for its adaptability. Even if the gift cards are used abroad, you can sell a large number of them.
Multiple Payment Options:
Prestmit does not restrict Gift Card merchants to accepting only one type of payment. Prestmit app users can be paid for their Gift Cards with cash transfers (Naira and Cedis), Bitcoin, or USDT.
How To Sell Gift Cards For Bitcoins In Africa
Are you longing to trade your Gift Card for cash or crypto, instead of just exhausting the money on purchasing items you may not even need?
We're here to assist you with that and give you the information you need to sell Gift Cards for bitcoins on Prestmit.
Firstly, create an account and log in.




Click on "

Start Trade"


Select "

Sell Gift Card"

and scroll down the page to fill in the details.




Select

"Category"

and further select the type of Gift Card.




Select

"GIFT CARD":

This is where you will further specify the type of Gift Card you want to sell.




Enter the

"AMOUNT":

Enter the total amount of Gift Cards you want to sell.



Upload File:

This field is meant for uploading pictures of the Gift Cards if you have them in physical form but ignore this if you have the E-code format. Simply type the codes in the comment section.



Select PAYOUT METHOD

: If you are trading Gift Cards for cash, just select Bitcoin or USDT, as you wish.




Finally, click "

SUBMIT

" and your payment will be made in a few minutes.
All payments are made instantly.
With the information above, you are sure to get the best out of your Gift Card and Bitcoin by trading them on a reliable platform like Prestmit. As long as Africa is concerned, Prestmit app offers tons of outstanding services other exchanges dare not offer.
– Advertisement –