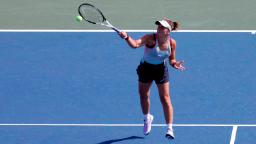 Andreescu was out on the Grandstand court to play Harmony Tan but the winds at the open arena kept blowing her skirt up and affecting her shots, forcing the 22-year-old to approach the chair umpire and request an additional bathroom break to change.
"Will this not count as one of my changeovers? I mean it's not my fault, it's Nike's fault," she told the umpire.
"This dress is so, so bad… I need to go (change), this is really bad."
Andreescu returned wearing a white Nike tank top and skirt to eventually beat Tan 6-0 3-6 6-1.
"It was just bothering me on some forehands. I just felt like it was kind of coming up a bit. Obviously, the wind didn't help," she told reporters.
"But I meant no disrespect with what I said to the umpire. I was trying to convince him to not take away that washroom break because I know we only get two. He was very nice to say it was totally okay.
"I could have definitely used a different choice of wording. So I apologize to anyone I disrespected. I love Nike and I hope I can be with them for the rest of my life!"
Andreescu will next play Beatriz Haddad Maia in the second round.