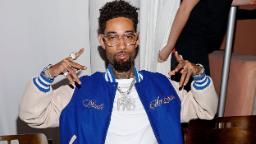 CNN
—

Rapper PnB Rock was fatally shot during a robbery in Los Angeles Monday, Los Angeles Police Department Chief Michel Moore said Tuesday.
Police responded to a possible robbery at Roscoe's House of Chicken 'N Waffles on West Manchester Avenue at 1:15 p.m., where they found a victim with multiple gunshot wounds, LAPD Cpt. Kelly Muniz said during a news conference Monday evening.
Moore confirmed the victim was identified as Rakim Allen, also known as PnB Rock, during a Tuesday meeting with the Los Angeles Board of Police Commissioners.
"Just yesterday was a very high-profile murder that occurred in a southeast area local restaurant involving a music artist by the name of PnB Rock," Moore said.
"A Mr. Rakim Allen was apparently there with his girlfriend or a friend of his and as they're there enjoying a simple meal, [Allen] was brutally attacked by an individual who, apparently, we believe… came to the location after a social media posting of the artist and the woman accompanying him."
Moore said a picture of the pair's meal had been posted on Instagram, with the location tagged. He said a Black man attacked the rapper at the restaurant, demanding his property. PnB Rock "had an extensive amount of jewelry and other valuables," Moore said.
After a verbal exchange, the suspect shot the victim multiple times and fled in a getaway car in an unknown direction, according to Muniz. The victim was transported to a local hospital and died at 1:59 p.m., according to Muniz. She said no one is in custody, and there is very little information on the suspect at this point.
"Mr. PnB Rock was shot and killed and lost his life there, simply over the jewelry and valuables that he had on his person," Moore said. "Our investigation continues. There was an extensive amount of cameras and investigative leads that we will follow to solve this case."
The iconic Los Angeles restaurant posted condolences to the rapper on its Facebook page.
"His passing represents an enormous loss to each and every one of us," the post read. "Our most heartfelt condolences, thoughts, and prayers go to the Allen family at this difficult time. The safety of our employees and guests are our utmost priority. We have and will continue to keep our place of business as safe as possible."
News of PnB Rock's death sent shockwaves throughout the hip-hop community.
"He was such a pleasure to work with. Condolences to his mom & family. This makes me feel so sick. Jesus," rapper Nicki Minaj tweeted.
She also urged the hip-hop community in a series of tweets to look out for young and upcoming artists who may have a target on their back, especially after deaths in recent years of other acts like Young Dolph, Pop Smoke and Nipsey Hussle.
"Pray for pnb rock … the man got family and kids smh God be with the man!!" rapper Offset tweeted.
DJ Akademiks tweeted Monday that he had just interviewed PnB Rock one week ago.
"This PNB Rock situation crazy.. i just did a interview with him a week ago where he detailed how someone tried to rob him in LA recently while he was out with his girlfriend and daughter. Now.. this.. smh. Pray for PNB Rock."
Even New Jersey Gov. Phil Murphy weighed in on the rapper's death.
"Saddened by the passing of rapper PnB Rock, who died earlier today due to a senseless act of gun violence," the governor tweeted. "PnB Rock was a star in the industry. Sending our condolences to his friends and family during this time."
PnB Rock made waves at the end of the 2010s with two albums between 2017 and 2019 – "Catch These Vibes" and "TrapStar Turnt PopStar." Between 2016 and 2019, PnB Rock had eight songs on the Billboard Hot 100, four of which were in 2019.
The Philadelphia rapper has been featured on hits like "Everyday We Lit" with fellow rapper YFN Lucci in 2017 and "Dangerous" with rapper Meek Mill and singer Jeremih in 2018. "Everyday We Lit" peaked at No. 33 on the Billboard Hot 100 and "Dangerous" peaked at 31.
In 2019, he also collaborated with singer Layton Greene and rappers Lil Baby and the City Girls on "Leave Em Alone," as well as with Chance the Rapper and Ed Sheeran on "Cross Me."
His latest song, "Luv Me Again," was released on September 2.