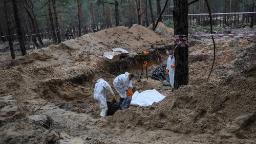 Ukrainian defenses continue to consolidate liberated territories in the eastern part of the country as Russian forces regroup, the Ukrainian military said Sunday.
"The enemy is regrouping troops in separate directions, looking for ways to pull up reserves, and conducting aerial reconnaissance. Inspections are being intensified in the occupied settlements," the military's Operational South Command said via Facebook.
Officials describe the situation in the southern Kherson region as "tense," and a regional military official said the humanitarian situation in liberated settlements is difficult.
"The Ukrainian police, humanitarian aid (water, food) enter the de-occupied settlements. The primary tasks are providing people with water, electricity, firewood and building materials," Serhii Khlan, a Ukrainian military advisor, said on national TV Sunday.
A clash in Kherson: Russian security forces clashed with "a group of armed men" in occupied Kherson Saturday, the Russian state news agency TASS reported.
TASS did not provide details about the identity of the "armed men" or how many of them were in the group.
Ukraine's South Operational Command described the shooting as a provocation by the Russians, saying "they pass it off as counter-subversive measures, trying to accuse the Armed Forces of Ukraine of mindless street fighting among the civilian population."
The operational command also claimed that Russian forces "are shelling the houses of civilians, objects of civil and critical infrastructure," in the Kherson region.
Elsewhere in the southern part of the country, explosions were heard in Melitopol, according to the city's mayor.
"For the third day, explosions are heard in the city. Yesterday morning and afternoon, warehouses with ammunition and enemy military equipment, located on the shore of the Molochny estuary, exploded. Some time ago, the Russians removed their equipment from the city of Melitopol and placed it right on the shore of the estuary," Mayor Ivan Fedorov said on Ukraine's national TV.